At the anniversary celebration on Saturday, October 16, Jiun roshi shared her plans to prepare Noorder Poort for the next 25 years.
At that occasion, she launched a fundraising campaign for expansion in the following three areas:
Sitting in silence is the foundation of zen practice. We would very much like to build a new zendo.
Energy saving: We already have eighteen solar panels, and two years ago a new, well insulated roof has been installed. But this is not enough. We also need to reduce our dependence on gas for heating and hot water.
New spaces. January 2022, a much needed enlargement of the kitchen was realised. More and more people want to stay in a single room, and so we need more rooms. The bathrooms are outdated and too small to renovate. A teacher's room is needed.
Change of priorities
The original priority was to build a new zendo. But since October last year, the world and our lives have changed. The consequences are clearly noticeable here at Noorder Poort: supplies are becoming more expensive and energy costs will soon almost double to more than € 2000,- per month. The zendo, which in October we thought to build for € 200,000, is now approaching € 300,000. The fact that life has become more expensive is also reflected in the number of participants in our programs. Even though doing a sesshin can especially now be a great support for the participants, we see a slight decrease in registrations.
At the same time, taking measures that help to reduce climate change are by the day becoming more urgent.
All this has made our board decide to set different priorities within the NP 25+ project. The big change is that we are postponing the construction of a new zendo. Instead, we will first make the existing buildings more sustainable. This is not only good for the earth, it also ensures the continuity of Noorder Poort, because our monthly energy bill will be much reduced. In that way, we also hope to prevent a strong price increase of our programs. The donations we have received, will be used for the purchase of solar panels, heat pumps, insulation of the building and where possible floor heating.
In the coming months, with the aid of specialists, a detailed plan will be developed. In addition we have engaged an organization for raising funds outside the sangha and applying for government grants. And of course our own campaign NP 25+ will also continue. In November/December we hope to have clarity about the finances and then the implementation of the project will be started.
So first of all sustainability and only after that a new zendo and the other planned renovations.
We are getting a lot of positive reactions to this change of plan. But if you do not agree that your donation for a new zendo will be used for sustainability, please let us know as soon as possible.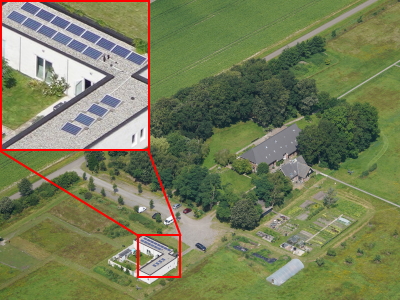 We hope to build the new zendo at a later date!
Until May 22, a total of € 181.034,-!!! was donated. The final result will be announced when we close our jubilee year on September, 17
Further contributions are very welcome; please transfer your gift to the account of Noorder Poort:
NL96TRIO 0197619223, BIC TRIONL2U, referring to NP 25 +