At the anniversary celebration on Saturday, October 16, Jiun roshi shared her plans to prepare Noorder Poort for the next 25 years. In her own words:
The first 25 years are over. We are growing as a sangha and that is noticeable at Noorder Poort. It's starting to get a little tight here. And so I am delighted to launch a fundraising campaign for expansion in the following three areas:
Sitting in silence is the foundation of zen practice. We would very much like to build a new zendo.
Energy saving: We already have eighteen solar panels, and two years ago a new, well insulated roof has been installed. But this is not enough. We also need to reduce our dependence on gas for heating and hot water.
New spaces. The kitchen is too small. More and more people want to stay in a single room, and so we need more rooms. The bathrooms are outdated and too small to renovate. A teacher's room is needed.
This January we will already start with the enlargement of the kitchen.
The most important step: a new zendo
The most important step is a new zendo: a separate building, slightly larger than the current zendo, and built especially for that purpose. Optimal air, optimal light, optimal silence. The architect Eric de Leeuw, who also designed the Zen master house, has already made some very preliminary designs.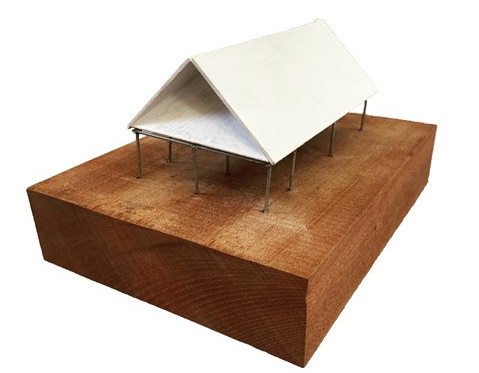 The zendo will be situated on the north side of the building: see the rectangle drawn in the photo below. See also the 3d image that Kyogen has made – remember this is all very preliminary; no decision has been made over walls, windows and doors.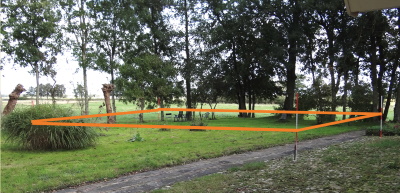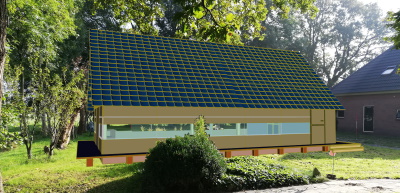 Once we have the zendo, the other bottlenecks can be removed by renovating the ground floor. It could become something like this: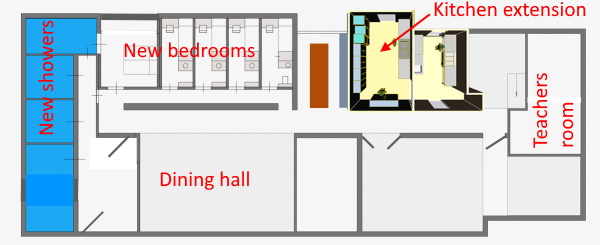 We need € 200 000
Building such a zendo should be possible for a budget of €100.000, was Jiun roshi's first thought. Forget it, both the architect and the builder said, materials have become two to three times more expensive since Covid-19. Maybe we will be able to do it for twice as much, if we try hard. But you will have to accept a pillar in the middle of the zendo.
So two hunderd thousand euros is the goal of this anniversary fundraising campaign, which will last not a few months, but an entire year. To raise this amount, we will not only ask our own sangha members for contributions, but also look for outside funds.
Contributions can be transferred into the account of Noorder Poort:
NL96TRIO 0197619223, BIC TRIONL2U, referring to NP 25 +
Other ideas for sponsorship actions are welcome as well: send an email to the office and we will contact you.
The final words of Jiun roshi in her speech were:
I think it's already there, the new zendo. It is what we constantly notice in the Dharma: everything already exists, if we just allow ourselves to see it. We will see this zendo built. I hope we will, I trust we will, and already I am very grateful for that. In this way it will be a great joy for me to continue for another 25 years.