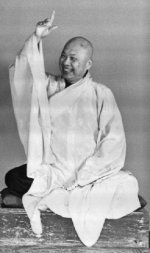 Zen master Thich Man Giac was born in 1929 in Hue, Vietnam. At the age of ten he became a monk. Later, he studied Buddhism at the Buddhist Academy in Hue. He graduated from the University of Tokyo with a diploma Literary Science and Oriental Philosophy.
From 1965 to 1975 he taught literature as well as Indian, Chinese and Oriental Philosophy at the Universities of Saigon and Hue. In 1978 he went to America. At that time he was not only Zen master and scientist, but also a well known poet in his country. He has written more than twenty books in Vietnamese, four of them poetry volumes.
In 1980 he succeeded Thich Thien An as supreme abbot of the Vietnamese Buddhist Churches of America in Los Angeles. Zen master Thich Man Giac lived in the Los Angeles Vietnamese temple until his passing away on October 13, 2006.