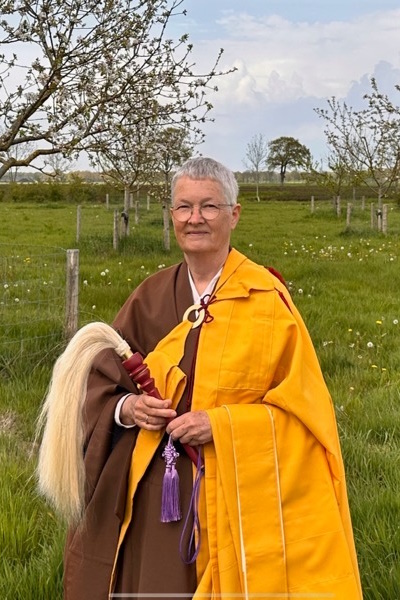 Anshin Tenjo Schröder (1957) was born in Rotterdam and grew up in Naarden (NH). She was educated at the Academie voor Expressie en Communicatie in Leeuwarden. Afterwards, she worked as a social worker in a womens' refuge in the same town.
In 1996 Tenjo had her first contact with zen at Noorder Poort. A year later she decided to live there. From 1999 till 2004 she was in training with Jiun Hogen as an unsui (Zen-Buddhist nun). Since 2004, she lives in Leeuwarden.
Nature is a great inspiration to her: 'By tuning into nature, we experience the wonder of life. Nature has a powerful healing power.' She is a mudflat walking guide and among other things guides an annual mudflat walk in silence. She also guides nature retreats every August.
She was ordained by Jiun roshi in 2010 as a Zen teacher and in 2017 as an osho. On May 5, 2023 she was given transmission as a zen master.
She is the founder and leader of the Dharmahouse in Leeuwarden, which officially opened in 2016.
email: contact@dharmahuis.nl