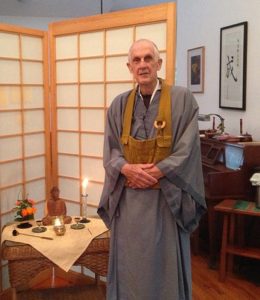 Soan Poor, Osho (1939) was a Computer Scientist and Director of a Research Computing Facility at the University of Miami for 25 years.
He lived together with his wife Mary Anne Jigen Poor in Miami, Florida (USA). They liked to work in their yard, where they grew many varieties of tropical fruit trees. They also had a garden devoted to butterflies. Another great love of theirs was sailing on the ocean on their catamaran or trimaran. Soan has two sons and one grandson.
Zen live
Soan osho practised Hatha Yoga for ten years before he met Prabhasa Dharma zenji in the 1988. Under her guidance he started zen meditation.
For many years Soan osho, and his wife Jigen, zenteacher, led the Dharma House in Miami. They both retired in 2017, but still participated as long as they could in the practice at the Snapper Creek Zendo.
On July 6, 2023 Jigen Poor passed away.
Poetry
Encouraged by Prabhasa Dharma zenji, Soan osho also likes to write poetry. One of his haikus:
Come sit with us
With warm Miami breezes
Doing non-doing