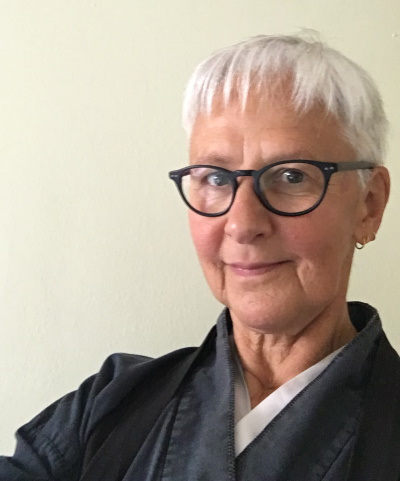 Gabi Jikun was born in Stuttgart (Germany) in 1957. She moved to the Rhine-Neckar region (Heidelberg, Ludwigshafen) for her first job and for subsequent study. She recently retired from her professional life as an engineer and can now devote herself to new challenges.
Her interest in meditation was awakened early, at first through books. This was followed by a zen course at an adult education center. Because she wanted to intensify her practice, in 1992 she attended an introductory course lasting several days, guided by Udaka (today Jiun Hogen Roshi). In the same year, she took part in a dai sesshin with Prabhasa Dharma zenji. She remained her student until the death of Prabhasa Dharma zenji in 1999. An important step in her training was the month-long desert retreat in Joshua Tree National Park in 1995.
Now she is a student of Jiun Hogen roshi, who ordained her as a zen teacher in 2022. She guides zen courses in Ludwigshafen and Mannheim.
email gabien@web.de