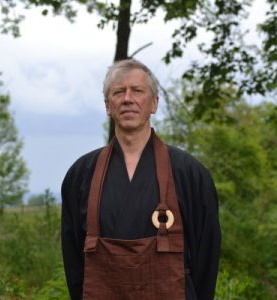 Martin Horai Horn was born in Lippstadt (Westphalia, Germany) in 1962. After school he did his national service not in the military but with Benedictine monks. This was followed by studying theology, German studies and philosophy at the University of Paderborn. After two years, he switched to studying acting in Essen. In 1986 he met Gesshin Prabhasa Dharma roshi at a dai sesshin in Neumühle and became her student. Through her, he met Jiun Hogen roshi. He has maintained his connection to her and to the sangha ever since.
He has two children and is living in Anröchte on the edge of the Sauerland.  He works in Bochum in his practice for zen therapy. In both places he offers zen meditation in small groups.
In 2022, he was ordained by Jiun roshi as a zen teacher with the name Horai: Dharma Thunder.
email: mail@fgmhorn.de