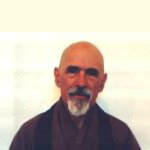 The Artist
Tozan Cardona-Hine (1926 – 2016) was a poet, composer and painter. He worked as editor of a history magazine as well as director of programs for children at the Minnesota Museum of Art.
He also worked as a poet in schools in Minnesota and California. He has published fourteen books and is a member of several fellowships.
His mythic paintings were shown at the McAllen International Museum in Texas. In the summer of 2001 a song cycle by him was performed in Santa Fe.
Zen Life
Tozan's interest in zen dated back to the sixties. At that time he introduced Prabhasa Dharma zenji to zen master Sasaki roshi in Los Angeles, thus starting a relationship that led to her becoming a master.
In return, years later, Prabhasa Dharma zenji entrusted Tozan with the teaching of poetry to her American and Dutch students. In his poetry classes Tozan stimulated people to find the poet within themselves.
Tozan passed away on August 28, 2016.