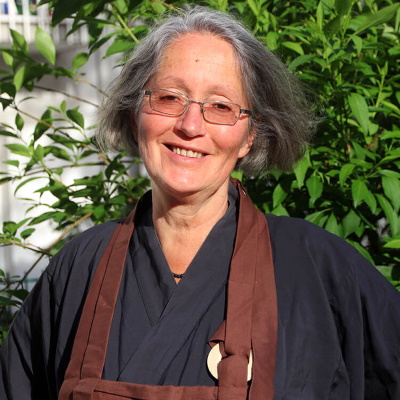 Ute Jinen von Münchow-Pohl was born in 1958 in Bremen. She moved frequently; since 1991 she lives with her husband in Hamburg. She works as a freelance director of children's animated feature films.
She came to zen in her search for a direct contact with Reality.  In 1996 she started zen practice under the guidance of Shinsei Nicolai in Hamburg. Since then she very slowly sneaked her way into regular zen meditation, until her first contact with Jiun Hogen roshi in 2000 at the International Zen Center Noorder Poort. She has been her student ever since, and over the years zen practice has become the anchor of her daily life.
Jiun Roshi ordained her as a zen teacher named Jinen (Nature of Compassion) in May 2022. Together with zen teachers Susanne Jisei Backner and Frank Hoshin Richter, she guides the meditation group in Hamburg-Ottensen.